Creative Notebook Solutions

specializes in the design and production of

Custom Engineering and Scientific Notebooks

The original developer and source of the PLTW Engineering Notebook.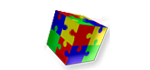 Creative Notebook Solutions has been serving the PLTW and STEM communities since 2009! We are pleased to announce an expansion of our products. Along with the PL Engineering Notebook, we now offer the PL Scientific Lab Notebook!
Both Notebooks have been uniquely designed to be used with any STEM program that utilizes a journaling notebook for Engineering & Biomedical/Science courses. Both Notebooks are intended for the progressive Middle School learner to the established Design Professional. Both Notebooks feature 130 total pages, uses 60lb paper, has a durable book-like Perfect binding, is 3-hole drilled, subject focused reference pages, and measures 8.5" x 11".
Based on teacher feedback, students have shown to take a more serious approach to journaling, resulting in a higher quality of work, when provided with a professionally formatted notebook in contrast to using a generic quad-ruled journal.
Creative Notebook Solutions remains committed to its company mission of providing notebooks with a superior level of quality and design at an unmatched price! We encourage you to compare our notebooks' features and LOWEST PRICE with any in the marketplace today!
What Teachers Say
About our Notebooks
Get your Notebooks!
"
After looking long and hard for quality engineering notebooks, I know that those provided by Creative Notebook Solutions are, far and away, the best on the market. They provide not only quality and cost efficiency but represent professional notebooks my students will use throughout their careers. I wouldn't shop anywhere else.
Ashley
High School / Indiana
"
The notebooks from Creative Notebook Solutions are great! Professional, pretty cheap, more pages, lots of resources, and a much improved binding
Bakari
High School / California
"
It looks great! My students take more pride in the quality of their work when using the PL Engineering Notebook; it's great to have quick access to resources such as sample entries, common abbreviations, sketching types, and a designated place for the Design Process.
Joanne
Middle School / New York
Need to pay by
purchase order?
Please include the following information on all Purchase Orders:‍‍
P.O. #
Total Number of Notebooks w/ Notebook Type (Engineering / Scientific) and Entry Page Format (Ortho/Iso or Ortho/Ortho)
Shipping Address
Invoicing (or Billing) Address, if different from Shipping Address
Indiana Schools Only: Federal Tax Exempt Number
Purchase Order Methods
All Emailed & Credit Card orders will receive an order confirmation reply.
US Mail
Creative Notebook Solutions
1916 Deer Lodge Drive
Fort Wayne, IN 46818
Email (preferred)
notebooks@creativenotebooksolutions.com